Static Cavity Fire Curtain & Blanket Barriers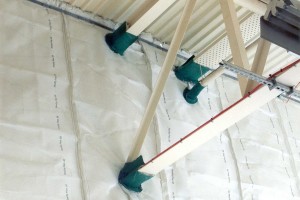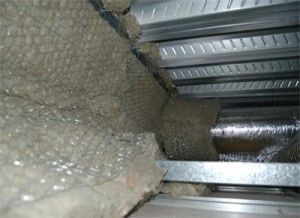 Traditionally the only product available for Fire Barrier applications, was a mineral fibre type, with installations often being difficult and cumbersome to achieve, especially in confined areas.
FIREFLY Fire barriers were developed to offer a flexible, lightweight, non-respirable, and easy to install product for all types of horizontal and vertical installations.
Typically the barrier is installed with the barriers fixed at the top with a support, and continuous galanvanised angle along the top, sides and bottom, screwed through at 250 centres.
A 100mm overlap should be left at all perimeters, and the stud and galvanised angle should be of a minimum gauge of 0.5mm. Heavier gauge metal can be used.
This method creates a complete barrier to fire, smoke and when using the one of the insulated barriers, heat penetration.
Where you have a "firewall" joining a roof, there can be a serious compromise on the fire protection, as a "flash over" can happen leading to fire travelling through the gap, however small, where the wall and roof meet.
FIREFLY offers a really simple solution to maintain the integrity of the fire wall.
This application is sometimes referred to as a Control Zones, or a Protected Zone and in some cases an Umbrella Zone.