OUR SERVICES:
Fire Protection Boarding to Structural Steelwork
The typical rating is 1 or 2 hours of fire protection, by use of a high density rock mineral wool slab and we typically install after the building is watertight.
Beam & Underside Fire Protection
The principle use of this protection system is the fire protection of structural steel, as part of the encasement system, where it offers up to 180 minutes protection and the protection of the occupants above.
This encasement system can also be used to provide high performance fire resistant walls and partitions.
Firestopping Services
This is an area of fire proofing to retard the spread of fire through various penetrations commonly occurring in buildings, such as cable trays, conduits, pipework, drainage systems, wiring etc. We normally firestop close to the completion of buildings after all the services have been run throughout, such as electrical, aircon, water, drainage, data comms etc.
Intumescent Painting & Spraying
Decorative, thin film intumescent coatings for the fire protection of internal and external steelwork for up to 120 minutes. The intumescent spraying & painting is normally performed, either at our factory, prior to shipping to site or more so, onsite after the steelwork is erected with the sides & roof in place.
Fire/Smoke Curtains & Cavity Barriers
Cavity Barriers, provide compartmentalization of structures, typically within roof voids and above suspended ceilings.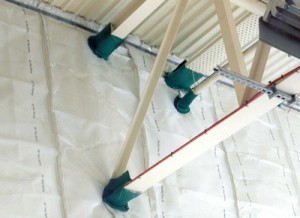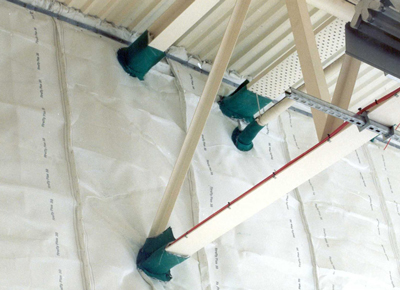 Contact Us
For further information, including site directions and an online enquiry form, please visit our contact us page or give us a call on 0191 5225787