Fire Lining Systems Ltd
UK Wide Fire Protection Contractors
Fire Lining Systems Ltd Awarded ISO 9001:2008 Accreditation for Quality Management.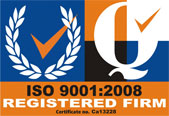 Fire Lining Systems Ltd has been awarded the ISO 9001:2008 accreditation, following a successful external audit by International Management Systems Marketing Ltd (IMSM Ltd).
Having gained ISO accreditation in 2009, the company has consistently maintained its quality management system and will strive to re-gain re-accreditation year-on-year.
Maintained by ISO, the International Organization for Standardization and administered by accreditation and certification bodies, it is widely acknowledged that ISO standards promote product quality management, improves consistency via traceability, enhances customer focus, promotes continual improvement and improve business outputs.
Fire Lining Systems Ltd Awarded ISO 18001:2007 Accreditation for Health & Safety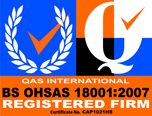 Fire Lining Systems, during 2009 established safety management and health protection at work according to standards OHSAS 18001: 2007, which subsequently were certified by IMSM Ltd Certification Company and Fire Lining Systems gained BS OHSAS 18001:2007 certification.
OHSAS 18001:2007 standard for assessing the health & safety systems at work, establishes requirements for occupational health and safety management system to allow Fire Lining Systems to manage their occupational health and safety risks, minimize them and improve the management performance of health and safety at work.
Fire Lining Systems Ltd Awarded FIRAS Accreditation for Fire Protection Services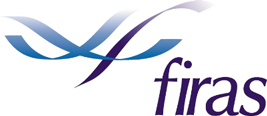 FIRAS Accreditation is instrumental in improving standards of installation of fire protection products/systems to the benefit of the construction industry and the clients it serves.
FIRAS is voluntary, third party certification for installation contractors of both passive and active fire protection systems, operated by Warrington Certification, and accredited by UKAS to EN45011.
FIRAS certificated contractors are required to undergo a 3 stage assessment process. And, only when the applicant contractor has satisfied all of these criteria is certification granted:
  Assessment of office management systems
  Assessment of workmanship of site for all trade disciplines for which certification is sought
  Competence assessment of supervisory and installation employees
All FIRAS site inspectors and sprinkler engineers have technical and practical knowledge and experience in fire protection. Certification requirements have been developed with UK trade associations
Fire Lining Systems Ltd awarded Constructionline & CHAS Accreditation for Fire Protection Services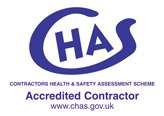 Constructionline & SSIP – The Contractors Health and Safety Assessment Scheme. Following on from achieving ISO 9001, ISO18001, ISO 14001 & Firas Certification, Fire Lining Systems Ltd has now gained Constructionline & CHAS Accreditation.
This is a scheme that aids organisations in identifying suitable contractors, suppliers and consultants, by providing information about their health and safety management systems. The scheme is open to the public and private sector. Membership extends to health trusts, councils, emergency services, the voluntary sector, housing associations, government departments and large private companies who use subcontractors including Alfred McAlpine, Royal Mail Group and British Aerospace.
The aim of the scheme is to avoid repeated applications by contractors and consultants in safety pre-qualification. This saves time and money for all involved. In addition, a Constructionline & CHAS assessment may cancel the need for a full assessment when tendering for work with members.
The Association of London Government Health and Safety Forum have licensed Merton Council as the Constructionline & SSIP administrator to promote and run the scheme on their behalf. A National Management Board were established in 2002 to check the scheme is managed and developed in line with it's constitution. Members of the management board represent the national membership and include the GMB and UCATT trade unions and safety and procurement professionals. Members have clearly defined aims and objectives that demonstrate the professional way the scheme is operated.
Participating in the Constructionline & CHAS scheme helps both companies and clients:
– It makes sure a company is compliant with important parts of health and safety law.
– It means clients do not have to repeat the effort of assessing health and safety compliance of applications for companies who have already been assessed to Constructionline & CHAS standards.
– Companies do not have to undergo health and safety assessments every time they apply for work – clients will know they have been successfully assessed before.
– It will get rid of inconsistency where some contractors may be judged compliant by one client but not others.
Fire Lining Systems Ltd Awarded ISO 14001 Accreditation for Environment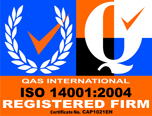 Fire Lining Systems, during 2009 established and environment management system according to standards which subsequently were certified by IMSM Ltd Certification Company and Fire Lining Systems gained IS) 14001:2004 certification.
____________________________________________
Fire Lining Systems can now guarantee a high quality of services backed up by the four certificates that are recognized throughout the European Union and in the world and which can be acquired only by companies meeting the strict criteria of standards and certification companies.
The certificates for management systems according to ISO 9001:2008 for Quality Management Systems, Firas for accredited Fire Protection installations, Constructionline & SSIP for Health & Safety, OHSAS 18001:2007 for Health & Safety Management Systems and now ISO14001:2004 for Environment" says Paul Clark, Managing Director at Fire Lining Systems Ltd.
"Thanks to these Quality Certificates of integrated management systems, we can demonstrate the quality of our passive fire protection services offered.
Fire Lining Systems in the near term will launch work to further implement procedures to become a Carbon Neutral Company before the end of 2010.
Our customers will gain greater assurance that they will receive services with quality. They also know, that we respect the modern requirements for environmental stewardship, while we focus on maximum health & safety at work" continues Paul Clark, Managing Director of Fire Lining Systems Ltd.
The main objective of Fire Lining Systems activities is to provide customers with quality & professional fire protection services. Fulfilling the goals and objectives of the quality, environment and health & safety at work is ensured by an integrated management system, which is an integral part of the Company Management.